Lightweight Brick Honeycomb Panels
PATENT PENDING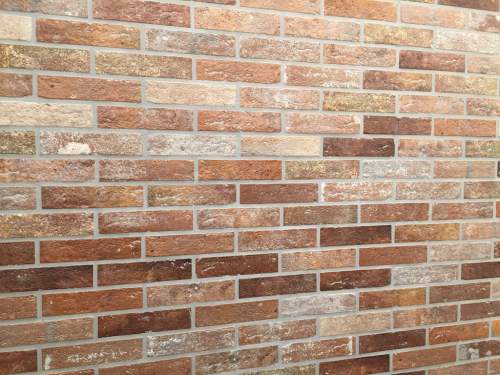 In addition to working with natural stone, Pacific Bedrock offers a number of more environmentally friendly materials such as natural stone, porcelain, and our newest product—lightweight brick honeycomb panels. These patent pending lightweight panels still give you the same beautiful look as real brick, but with a much simpler installation process and without all the headaches.
Advantages of Pacific Bedrock's Lightweight Brick Honeycomb Panels
Brick has been used for centuries to provide a beautiful, classic look. However, laying the mortar and having to install in brick by brick can take a long time and be quite costly, especially in large scale applications. This is why Pacific Bedrock sought to create a way to provide the aesthetic appeal of brick in a lighter, easier to install product, resulting in our lightweight brick honeycomb panels (patent pending).
By taking thin pieces of a real, solid brick veneer and laying it over the top of our unique aluminum or fiberglass honeycomb structure, we've developed a panel that is able to withstand almost anything and can be installed in minutes instead of days or even weeks. The honeycomb panel was first developed for use in space programs and has since been adapted to create one of the strongest, lightest weight building materials man has discovered.
By taking real brick, combining it with the strength and flexibility of the honeycomb panel, we've created a lightweight brick honeycomb panel that provides an untold number of benefits, including:
Color is resistant to fading, staining or being damaged by the sun/weather
Impact resistant
Lightweight, easy to install system requires no additional reinforcement of existing structure
Waterproof so honeycomb panel won't rust or corrode
Fire and heatproof
Suitable for use in any climate—even the most extremes
Looks just like real brick
Applications of Lightweight Brick Honeycomb Panels
Pacific Bedrock's lightweight brick honeycomb panels can be used absolutely anywhere you want to achieve the stylish look of real brick. As the panels are less than 25mm thick and weigh only a fraction of solid bricks, they can be used to provide the same look in much less space. They are custom cut and available in sizes up to 4x8', so you can use them for exterior cladding, interior walls, even around the fireplace.
Architects, designers and homeowners love them for the look they provide, while construction companies love them for the simple, easy installation process. Not available anywhere else, contact Pacific Bedrock today to achieve the look you want thanks to any of our lightweight stone or brick panels.
Benefits Over Traditional Brick
Compared to the time it takes to install normal brick, our lightweight brick honeycomb panels offer superior speed and convenience. Not only that, but they also can help reduce installation costs, while still providing increased strength and versatility. Other benefits over traditional brick include-
60 times greater impact strength than 3CM granite. The unique honeycomb backing improves strength and prevents the panels from breaking under even the most extreme conditions.
Weigh 70% less than dimensional brick (4.7lbs/ft2 vs. 22lbs/ft2)
Unique options for multiple returns and corners
Panels are easier to handle and install. Fewer men required to install more panels in a shorter amount of time.
Reduced weight makes them less expensive to transport and also require less raw material to produce.
High resistance to humidity.
Excellent thermal conductivity.
High resistance to corrosion, non-combustible and are also excellent at sound absorption.
Fully tested for acid freeze/thaw and seismic racking.
Flexibility makes them number one choice for seismic areas.
High flexural strength allows for larger panel sizes and high wind load capacities.
Panels can help contribute to LEED/GREEN certifications.